The Apple cake recipe for the 4th of July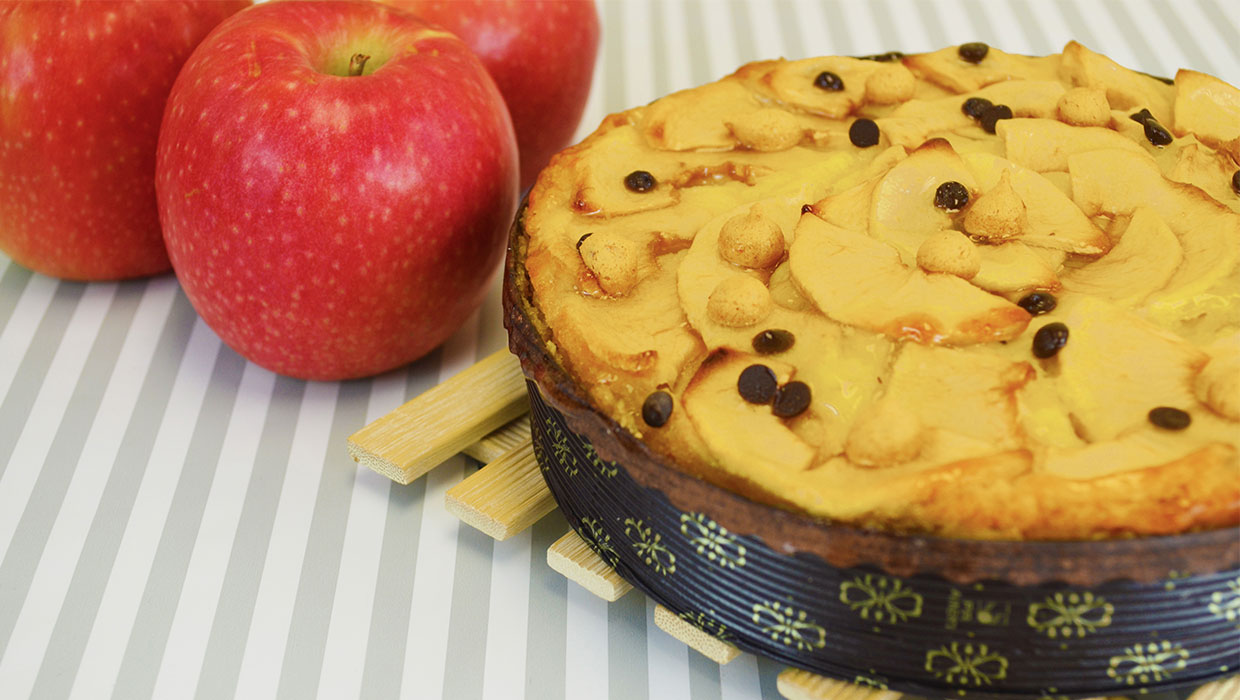 The Apple cake recipe for the 4th of July
On July 4th, the United States celebrates the American Independence Day, marking 247 years since the Thirteen Colonies separated from the United Kingdom. To commemorate this occasion, we want to share with you the recipe for an apple cake to evoke the famous "Apple Pie", which has become a true symbol of the United States over time.
Ingredients
Preparation time: 20 minutes (1 hour cooking time)
Doses:
3-4 apples
8.8 oz (250 gr) of 00 flour (or rice flour)
2.1 oz (60 gr) of almond flour (or peeled almonds reduced to powder)
1.1 oz (30 gr) of finely crumbled amaretti
4.6 oz (130 gr) of brown sugar (or granulated sugar) + 1 tablespoon for the surface
8.5 fl oz (250 ml) of milk (or soy or rice milk)
1.8 oz (50 gr) of sunflower oil
1 sachet of baking powder
Grated zest of 1 lemon
1 teaspoon of cinnamon powder (optional)
1 pinch of salt
Chocolate chips for decoration
Crumbled amaretti for decoration
Procedure
Start by preparing the apples: cut one and a half apple into cubes and let macerate in a bowl with the juice of a lemon and a tablespoon of sugar. Slice the other two apples thinly for the final garnish.
Mix the dry ingredients: flours, sugar, lemon zest, cinnamon, salt, and baking powder.
In another bowl, mix milk and oil.
Slowly pour the liquids into the flour, mixing with an electric whisk to obtain a lump-free batter. Add the apple pieces and mix.
Pour the batter into the MBB 170 H 35 HW baking mold from Novacart, previously floured. Arrange the apple slices in a circle, filling the entire surface, and sprinkle with sugar and cinnamon.
Bake in a preheated oven at 170°C for about 50 minutes. Let cool before decorating with chocolate chips and crumbled amaretti. Serve and... enjoy!
MBB 170 H 35 | Baking mold in microwave paper for tarts
MBB 170 H 35 HW baking mold is ideal for making cakes. Made from pure cellulose microflute paper, it is resistant to fats and capable of withstanding both freezing and baking in the oven up to 220°C (428°F). It is self-standing, does not require greasing before baking, and thanks to its elegant brown design with gold floral decor, it's perfect for the presentation of the finished product. Recyclable and customizable, it's the perfect choice for your sweets.